Cette femme est en phase terminale de cancer. Une infirmière s'approche et lui chante sa chanson préférée!
Beaucoup d'habitants de la ville de Nashville aux USA considèrent cette infirmière comme un «ange» après que la vidéo ci-dessous ait été postée en ligne. Elle est rapidement devenue virale. Et pour cause !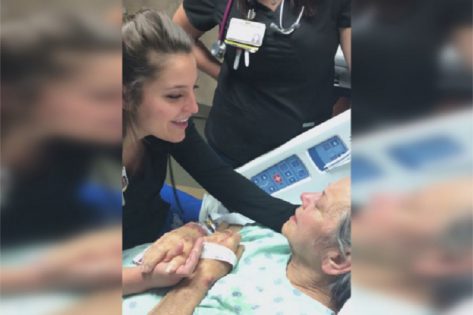 On y voit l'infirmière assise près d'une patiente en phase terminale de cancer. La scène se passe au Vanderbilt University Medical Center de Nashville. Olivia Neufelder tente de réconforter sa patiente Margaret Smith en lui chantant sa chanson fétiche : «Dancing in the Sky». Il s'agit d'un titre de Dani and Lizzy.
Alors que Margaret avait 63 ans, elle a appris qu'elle avait un cancer du foie. Du fait de son état faible, il lui était impossible de survivre à une greffe. Après que la vidéo ci-dessous ait été publiée sur Facebook, plus de 2 millions de personnes l'ont vue. Malheureusement, Olivia décéda 2 jours après. Et son dernier vœu était que cette chanson puisse être jouée à son enterrement. Un moment émouvant à découvrir ci-dessous.
This is another Video of the Greatest and sweetest Nurse ever. Ms Olivia, she would sing this to Margaret when ever Margaret asked her. Never would Olivia ever say give me a minute, I would but I don't have time. If all nurses would take the time and Care for patients like Ms. Olivia I believe we would see a lot more healing!!!!! The definition of a nurse to our family would be Olivia…….

Posted by Crystal Hamilton Roberts on Tuesday, October 24, 2017
Crédit vidéo : Facebook
Crédit photo: Capture d'écran Facebook