Il semble être un cheval noir bien ordinaire ordinaire. Mais quand il se retourne….
Le cheval est par excellence un animal majestueux, avec beaucoup de charisme et de noblesse en lui. Fascinant, cet équidé l'est encore plus lorsqu'il est d'humeur joyeuse. Vous allez découvrir Frederik The Great, un cheval d'une beauté rare à découvrir dans la vidéo ci-dessous.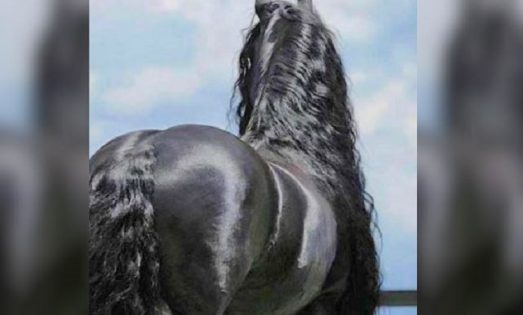 Frederik The Great est un cheval frison de 11 ans, originaire d'Hollande, mais importé des USA. Il a remporté de nombreux prix du fait de sa magnifique apparence. Frederik vit dans les montagnes Ozark aux USA. Quelle prestance il a lorsqu'il galope au cœur des plaines ! Avec une page Facebook comptant plus de 59 000 abonnées, cet équidé peut être fier. En 2015 déjà, son premier poulain Vaughn est né. Frederik est considéré ainsi comme le plus beau cheval du monde. Découvrez sa vidéo ci-dessous.
Crédit vidéo : Youtube
Crédit photo: Capture d'écran Youtube