Les clients étaient irrités pas la lenteur de la caisse. Mais quand ils lisent la pancarte, ils comprennent tout!
Il est clairement frustrant de perdre du temps dans une file d'attente, dans n'importe quel supermarché. Mais il faut souvent savoir prendre son mal en patience, parfois pour la plus belle des raisons.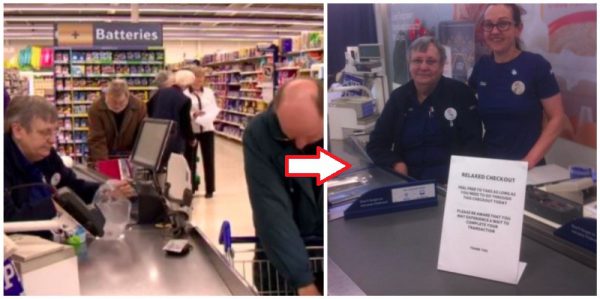 Alors que des clients d'un magasin d'alimentation en Écosse devaient se heurter à une longue file d'attente, ils ont vite compris la nécessité de garder leur calme. Une pancarte indiquait la présence d'une caisse spéciale. Elle accueillait les personnes atteints de troubles (autisme, démence, Alzheimer, syndrome de Down) voire des parents avec de tous petits enfants. Avec la «caissière détendue», ces personnes prenaient le temps nécessaire pour payer. L'hôte ou l'hôtesse de caisse s'attachait à prendre le temps nécessaire pour guider le client en difficulté et discuter avec lui.








Wendy Menzies, une cliente atteinte de démence, explique que beaucoup de personnes dans son cas sont assez solitaires. Elle explique : «Cela peut les aider à diminuer leurs exigences envers eux-mêmes et, espérons-le, les encourager à continuer de vivre parmi les gens pour participer à des activités simples qu'ils faisaient toujours avant d'être malades.»
Amazed at the generosity of our customers! One lady spent her entire winter fuel allowance on a trolley of food for our Neighbourhood Food Collection. #everycanhelps

Posted by Tesco Forres on Saturday, December 2, 2017
Avec cette caisse ouverte certains jours, le personnel suit une formation adaptée pour répondre aux besoins spécifiques. Vivement que l'exemple suit dans les autres pays.