Ce virtuose du violon présente ce jeune garçon. Ce qui suit m'a laissé BOUCHE BÉE!
Lorsque le virtuose du violon, Andre Rieu présente un jeune homme devant une salle comble, les spectateurs ne s'attendent vraiment pas à ce qui va se passer dans les minutes qui vont suivre. Le jeune Akim est donc présenté à l'audience. Un peu sous le choc et devant une foule déjà conquise le jeune garçon débute sa prestation avec la pièce, "Dance Of The Fairies".
Dès les premières notes, il est déjà facile de préciser que ce jeune homme est un virtuose lui aussi. Il enchaîne les notes sur son violon comme un grand artiste. D'un coup la foule se fait silencieuse et admire le spectacle qui se passe devant eux.
Avec une assurance et une qualité de jeu incroyable Akim termine sa prestation. C'est à ce moment qu'il reçoit une ovation monstre et bien méritée. Bravo à jeune garçon il a un bel avenir devant lui j'en suis persuadé……… 🙂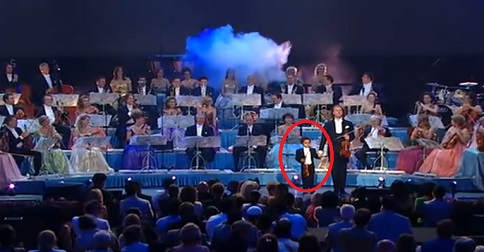 MERCI DE PARTAGER LA VIDÉO, CE PETIT GESTE EST IMPORTANT POUR NOUS.. 🙂